Have you ever worked on an important project or product that you had such high hopes for its breakthrough, but life throws you adrift and you end up where you least expected? When this happens, truth be told, we feel as if we have made a bad call. And often our first sensible reaction is to give up on these dreams that we have heavily invested our time and resources.
If you are on this ramp, keep reading because this is something that happens to all entrepreneurs, inventors and artists before they finally hit the pot of gold.
As the adage goes, everything has its season. And it is in the driest season when we sharpen our tools in readiness for the rainy season. By the same analogy, it is in our most depressing period where we learn the true meaning of our core values that make us become the best version of who we are.
Today, make a promise to yourself to never quit any of your dreams. And when things inevitably get tough and you want to quit, just revisit these ten guiding principles to living your purpose and making your dreams come true every time:
 Stand up for greatness. Make a commitment to excellence. Do not settle for less than a wow outcome. Reaching for excellence may mean putting in more hours and effort to produce the outcome you want. For example, Kobe Bryant did not just wake up one morning and become the greatest shooting guard of our time. It took long hours in the gym and mental conditioning to develop a scoring touch with unbelievable precision. In his book, Kobe Bryant, Kobe explains he took the nickname black mamba because of how he perceived its mentality. The black mamba is one of the fastest and most deadly snakes in the world.  It is said to have a 99% striking accuracy at a maximum speed and in rapid succession. Bryant is said it's the kind of surgical precision that he wants in his game. He explains that one must "figure it out no matter what comes, whether it's hell or high water." Clearly, this is a man who conditioned himself for greatness and committed every ounce of his energy to make it happen. Any great icon we admire today credits their success to a dedication to excellence.
Be consistent. Kobe didn't just commit to excellence. He also practiced ten times more than the average person. So, if you want to win every time, commit to being the best at whatever you do and put consistent practice each day. An expert in leadership, Robin Sharma likes to tell his audience that consistency is the mastery of geniuses. He says that performing "small acts of greatness done with consistency over time creates astounding results." In your life dreams, show up every day with consistency, and there will come a time when these efforts pay off! So, if you want to become the best quarterback, practice every day to master one or two techniques. Practice them over and over until these techniques become natural. If you want to have the most amazing voice in the world, practice your vocal warmups every day, and there will come a time when your voice will become the most amazing voice in the world. In short, the key to greatness and to any wow outcome is consistent practice.
 Connect with your vision. A person without a dream may survive but leads a mediocre life. On other side of life's spectrum, a person with a dream thrives and always is in the lead. In this experience we call life, there are no "damn ideas." It's only unique ideas that exist. So, don't be afraid to bring forth your ideas because they may save a life, or change your life completely. Remember this: your unique ideas reside only in your mind and nowhere else. Since no one else knows these ideas, you will need to make a connection and make them happen. The best way to connect with your vision is to occasionally close your eyes, in a form of meditation, to clearly see what you are trying to create. When you figure that out, bring your ideas to form. And then become their unapologetic defender because only you know why they exist in the first place.
 Ask yourself what is at stake. The greatest genius always asks the question "why?" Ask yourself: why is this important to me and to the billion people I want to serve with my services or products? Write down five things explaining why it is important to you and your targeted audience. Use these five reasons to develop your idea into form. As you make progress with your creation, occasionally revisit these reasons of why you are doing whatever you are doing. Trust me, it will help you even when you feel like quitting or like a total failure. The why it is important will always win over any despair or frustrations you will face. The why it is important will eventually win you the accolades and the pot of gold.
Be bold. Success is not for the faint of heart! Bringing boldness into whatever you do will lead to astounding results. Everyone who has made it in life has taken bold steps to bring to form the ideas they strongly believe in. It's not that they weren't afraid of making a total fool of themselves; they were, on many occasions. But they took bold steps and accepted the vulnerability that comes with unique ideas. They accepted the fact that not everyone will cheer for them, but they remained true to themselves and focused on their true vision. So, when someone writes you off, don't write yourself off. Just know that your unique ideas are well and alive. Believe in your ideas and speak up when necessary. And even better, be bold enough to defend your ideas because if you don't, who else will?
Listen to the small voice within: The voice of genius is the melody that rings from the heart! This music plays in the heart when your ideas are real and aligned to your life's purpose. You feel it beyond any doubts that this is it, and you know that you want to get it out there, no matter what. Look around in your life. What is one successful thing that you have experienced that first registered in the heart. Your logic said something else, but you knew it was the best idea and you went with your heart anyway? How did that experience turn out? The mind strategizes, but the heart knows the truth because it is the channel of your spirit. Listening to your intuition and connecting to the moment is like opening the hidden treasure chest to whatever you want to create. So, instead of suppressing or dismissing intuition as illogical, tap into this wisdom to navigate the path of your dreams. Through listening to your intuition — the most reliable GPS that you will ever have — you know when things aren't working for you, when it's the best time to pull back, when it's ideal to make a stop, and which way to proceed. Isn't this true genius? Many have dismissed this intuition as Eastern religious beliefs. But ignoring it is like choosing to paddle upstream against the current instead of taking the easiest ride downstream. Intuition is your road map to a life of wisdom.
 Be imaginative. Imagination is the playbook for the genius. Try new things to create a wide array of ideas. If your art seems to have plateaued or lost its flavor, imagine new ideas to bring it back to life. Think like Steve Jobs. Remember this Apple ad? The round pegs in the square holes. The ones who see things differently. They're not fond of rules, and they have no respect for the status quo. You can quote them, disagree with them, glorify or vilify them. About the only thing you can't do is ignore them because they change things. While some may see them as crazy ones. We see genius. Because the people who are crazy enough to think they can change the world. Are the one who do. And the ad ends with the words "Think different." Steve Jobs and his team of engineers dared to imagine differently and changed the world of computing. Steve did not believe in settling for the status quo, but he was a maniacal genius who transformed the way things were. He was the disrupter. His constant imagination paved way for the most innovative company of our time.
Be savvy. The world is rapidly changing, and you must keep up with it if you want to grow and expand. The best way is to educate yourself on changing trends and to come up with creative ideas to maneuver your way. Something that worked a year ago may become obsolete in the next six months. The idea is to keep your talents thriving and to learn from them. That way you serve your vision and the world at large.
Be stubborn. Don't accept anything less than the best outcome. Don't settle with maybe, it's better than my previous one, or it's much better than my friend's. Push yourself beyond your ideal comfort zone. Just like Kobe Bryant and other icons, condition your mind to excellency and stop settling for the status quo or less. Someone used this analogy at one of the seminars I attended at Santa Clara: Sperm that made you swam against millions of others to win the race. It was not going to let any other one beat it in that race. In a way, it was the most stubborn, the most energetic, the fastest that won that race. In other words, you are the most stubborn, most energetic and the fastest to win the race, and that why you have stuck with me to this point.
Be a star: Claim your spotlight now! Your talents and gifts are what you will show the world to prove what you are made of. So, buckle up, my friend, and do what you do best. Soon, you will realize that your daily habits are opening a doorway to stardom better than you ever imagined.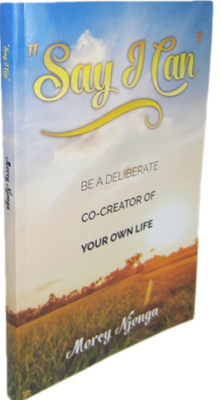 Article written by Mercy Njenga, Author Say I Can- Be A Deliberate Co-creator of Your Own Life